Universal bows a new version of Van Helsing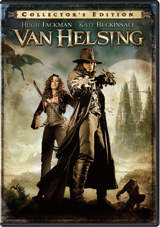 Universal Home Entertainment has announced a new DVD Collector's Edition of Stephen Sommers' horror actioner Van Helsing.
Legendary monster hunter Van Helsing (Hugh Jackman) is summoned to mysterious
Transylvania on a mission that will thrust him into a sweeping battle against the forces of darkness led by Dracula (Richard Roxburgh). Accompanied by a mild-mannered friar (David Wenham), Van Helsing joins forces with the fearless and beautiful Anna Valerious (Kate Beckinsale), to rid her family of a generations–old curse by defeating the vampire.
The new version will offer an anamorphic widescreen transfer of the movie with a Dolby Digital 5.1 audio track. As extras the 2-disc DVD set will offer a Commentary Track by director Stephen Sommers, editor/producer Bob Ducsay and actors Richard Roxburgh, Shuler Hensley, and Will Kemp, as well as Bloopers and a series of Featurettes. One of them is "The Legend Of Van Helsing", discussing evolution of the legendary character, Van Helsing, throughout film history. Another one is "Bringing The Monsters To Life," in which the experts Light & Magic show how Van Helsing's monsters were brought to life from pencil sketches through complete digital composition.
Also included is You Are In The Movie which allows you to experience movie-making magic through miniature cameras on the set that give the actors' perspectives on the filming of a scene.
Another one of the new features will be Explore Dracula's Castle, an innovative 360 degree self-guided tour, that gives you the chance to discover the stunning environments of "Van Helsing" that you couldn't see in theaters.
The release is rounded out by the film's Theatrical Trailer, the Superbowl Spot and a Van Helsing Xbox Game Preview.
The new "Van Helsing: Collector's Edition" will arrive in stores on July 8 and will set you back $19.98. Sadly no Blu-Ray version has been announced.