The Sarah Connor Chronicles gets blu-lit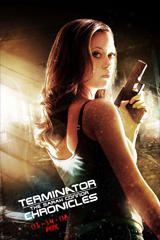 Despite a very short season, last year's freshman show Terminator: The Sarah Connor Chronicles is coming to DVD and Blu-Ray Disc from Warner Home Video.
The mother of all destiny. Her son, the future leader of mankind. Their protector, a terminator from the future. Together they must take back the future as Sarah Connor prepares her son to fight the war against machines determined to annihilate the human race. The clock is ticking. Can they stop Judgment Day?
The man-vs-machines tale that has thrilled millions gets a reboot with this popular series, set after the events of Terminator 2: Judgment Day. Will John Connor seize his destiny? Will a cell phone salesman's chess program evolve into Skynet? Can the sweet but deadly cyborg be trusted? Answers – and the fight for the future – are here and now!
Both sets will include the nine episodes from the first season along with the Featurette Creating the Chronicles, Commentaries, Deleted Scenes, a Gag Reel, Audition Tapes, Storyboards, a Dance Rehearsal, and a longer cut of the episode The Demon Hand.
Both sets will arrive on August 19th. Only 11 years after Judgment Day.