The fourth season of Lost arrives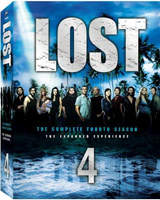 Buena Vista Home Entertainment has just announced the upcoming DVD and Blu-Ray Disc box set of the action TV show Lost, which the studio tentatively scheduled for December.
More than three months after their fateful crash, the survivors of Oceanic Flight 815 learn the only thing more dangerous than the Island might be the people who have come to save them from it. Every twist and turn, and all the secrets and clues of the boldest show on network television come together in one place, taking fans deeper than ever into the mysteries at its heart. Shocking revelations and subtle clues about The Oceanic 6, The Others, the Black Rock, the Dharma Initiative and much more make Season Four a highly enjoyable ride.
Coming as a 5-disc box set featuring all 14 one-hour episodes from Season 4, the release will also be packed with bonus materials. Look for Commentary Tracks and a good number of Deleted Scenes on the release, as well as the Featurette "Lost On Location," which takes you on a behind-the-scenes look at the making of some of Season Four's hottest episodes. Also included is "Freighter Folk" discussing where the folks on the freighter came from. You will get to know them and find out what the show runners looked for in new cast members.
Also included is the Featurette "Transforming Hawaii". From the deserted beach to urban Los Angeles, Hawaii serves as a global backdrop for the excitement and intrigue of Lost. Join the small army of technicians that transforms Hawaii to the Island as they go about their duties. Next up is "Gun Tracking" giving you a closer look at the formidable array of firearms from the show. Get real life gun profiles and find out what it's like working with so much firepower.
Also included in the release is the Featurette "The Music of Lost" showing you the Honolulu Symphony as it performs Michael Giacchino's award-winning score live for the first time ever. Witness the power of the show's many musical themes as well as its innovative use of instruments—and learn how music affects the production, from writing to directing.
"Lost: The Complete Fourth Season" has been scheduled for release on December 9 and will carry a $59.99 price tag on DVD and $96.99 on Blu-Ray Disc.