The City Slickers ride again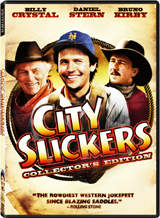 MGM Home Entertainment has prepared a new version of the Billy Crystal comedy City Slickers and readies it for release as a Collector's Edition DVD in June.
Three friends who are going through various degrees of mid-life crises sign up for a two-week cattle drive to clear up their minds and learn something about themselves and the world around them. A comedy classic about careers, cowboys, and mid-life crises.
Featuring a widescreen presentation of the movie, complete with Dolby Digital 5.1 audio, the DVD will feature a Commentary Track by director Ron Underwood and stars Billy Crystal and Daniel Stern. Also included are three all-new Featurettes named "Back in the Saddle: City Slickers Revisited," "Bringing in the Script: Writing City Slickers" and A Star is Born: An Ode to Norman." Also included is the previsouly released Featurette "The Real City Slickers" and 2 Deleted Scenes.
The City Slickers ride again on June 3 and you can join them on the trail for $14.98.