The Bridge On The River Kwai returns to DVD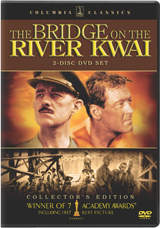 Sony Pictures Home Entertainment has added a 2-disc Special Edition release of David Lean's The Bridge On The River Kwai to their June line-up, replacing the movie's previous special edition version.
When British POWs build a vital railway bridge in enemy-occupied Burma, Allied commandos are assigned to destroy it in David Lean's epic World War II adventure "The Bridge On The River Kwai". Spectacularly produced, it captured the imagination of the public and won seven 1957 Academy Awards, including Best Picture, Best Actor (Alec Guinness), and Best Director. Even its theme song, an old WWII whistling tune, the Colonel Bogey March, became a massive hit. "The Bridge On The River Kwai" continues today as one of the most memorable cinematic experiences of all time.
This new release will contain the bonus materials found on the film's previous 2-disc Special Edition but will also contain a new Documentary about the Adaptation of Pierre Boulle's novel, the cast, the production, the music, the release, the restoration and other aspects.
"The Bridge On The River Kwai" arrives on June 10 with a $24.96 sticker price. Sadly no high definition version has been announced, but here's hoping…