Sleepy Hollow emerges from the mist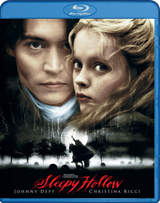 Tim Burton's 1999 visit to early American folklore is coming to Blu-Ray with the release of Sleepy Hollow from Paramount Home Entertainment.
Master storyteller Tim Burton (Batman, Edward Scissorhands) weaves an eerie, enchanting version of this classic tale of horror. Johnny Depp is Ichabod Crane, an eccentric investigator determined to stop the murderous Headless Horseman. Christina Ricci is Katrina Van Tassel, the beautiful and mysterious girl with secret ties to the supernatural terror.
The disc won't offer much in the way of new special features. The film arrives in 1080p with DTS-ES 6.1 sound, an Audio Commentary with Burton, two Featurettes and Trailers in high definition.
Arriving on May 20th, the disc will arrive for $29.99.