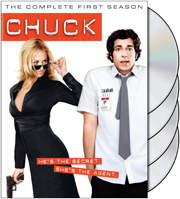 Remember last fall when Chuck was being hailed as the savior of all television? Well, it didn't turn out that way. The DVD version is now arriving as a Season 1 DVD set from Warner Home Video this fall. No Blu-ray though.
Chuck Bartowski, ace computer geek at Buy More, is not in his right mind. That's a good thing. Ever since he unwittingly downloaded stolen government secrets into his brain, action, excitement and a cool secret- agent girlfriend have entered his life. It's a bad thing, too. Because now Chuck is in danger 24/7.
The DVD comes with some nice extras for Chuck fans in addition to the 13 episodes of the first season; Deleted Scenes, the Featurettes Chuck's World and Chuck on Chuck, a Gag Reel, Mini-Featurettes from the Chuck website and a playable demo of Madden NDL '09 for the Xbox 360.
The set hits DVD on September 16th in time for the fall season. The 4-disc set will run at $39.98.