R. L. Stine's Mostly Ghostly arrives this fall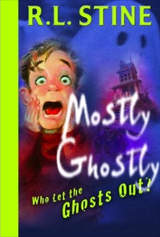 Universal Studios Home Entertainment has acquired the distribution rights to R.L. Stine's Mostly Ghostly series from Toonz Animation. Stine's latest series of spooky books has been a hit since its inception creating the perfect follow-up for his beloved "Goosebumps" series.
Now Universal is preparing an all-new, feature-length family adventure that's sure to have parents and kids happily hiding behind the sofa pillows this Halloween season.
Based on the first in the popular eight-book "Mostly Ghostly" series by best-selling children's author R.L. Stine with the title "Who Let The Ghosts Out?", the film chronicles the eerie adventures of 11-year-old outcast Max as he helps protect Nicky and Tara – the sibling ghosts who live in his house – from the fume-spewing demon Phears.
No exact release date has been announced yet but expect to be scared in time for Halloween.