Paramount makes you go to bootcamp with Drillbit Taylor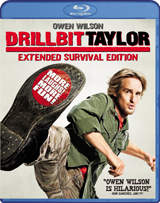 Paramount Home Entertainment has added the Owen Wilson comedy Drillbit Taylor for release on DVD and Blu-Ray Disc this summer.
Ryan (Troy Gentile), Wade (Nate Hartley) and Emmit (David Dorfman) attend their first day at high school and they're pumped… until they meet up with Filkins (Alex Frost), a school bully who comes off like a little Hannibal Lecter. Before they become completely engulfed in Filkins' reign of terror, they seek out some protection by placing an ad in Soldier of Fortune magazine. Their best response – and the cheapest – comes from Drillbit Taylor (Owen Wilson), a down-on-his luck soldier of fortune who lives a homeless – he likes to say "home-free" – existence on the beach. He enrolls them in some physical and mental training.
The DVD version of the movie will offer a widescreen transfer with a Dolby Digital 5.1 audio track. As extras the DVD will contain a Commentary Track featuring director Steven Brill, writer Kristofor Brown, Troy Gentile, Nate Hartley and David Dorfman. In a second Commentary Track "The Writers Get A Chance To Talk" Kristofor Brown and Seth Rogen will discuss the movie. Also included on the disc are a number of Deleted Scenes, a Gag Reel and Featurettes covering subjects such as "Directing Kids" and "The Real Don: Danny McBride."
The Blu-Ray version will feature a 1080p high definition transfer, of course, complemented by a Dolby Digital 5.1 TrueHD audio track. It will contain the same extras as the DVD version – and then some. Look for a few More Deleted Scenes as well as a series of Additional Featurettes, such as "Line-O-Rama," "Kids On The Loose," "The Life Of Don" and many others.
"Drillbit Taylor" The Extended Survival Edition" will arrive in stores on July 1 for $34.99 on DVD. The Blu-Ray version will follow on July 29 with a $39.99 price tag.