Nim's Island beckons in August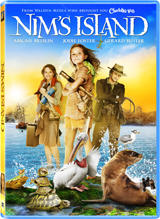 From 20th Century Fox Home Entertainment comes news this morning that the studio has added Nim's Island to their line-up, releasing the film on DVD and Blu-Ray Disc in August.
Nim Rusoe (Abigail Breslin) lives on a deserted island with her scientist father Jack (Gerard Butler) and her best friends: Selkie, a sea lion; Fred, a bearded dragon lizard and Galileo, a plucky pelican. But when Jack goes missing at sea and the island is "invaded," Nim reaches out via e-mail to the adventurous author of her favorite books (Jodie Foster), and together, each discovers what it takes to truly become the hero of your own life story.
The DVD version features a widescreen transfer of the film with Dolby Digital 5,1 audio and a number of bonus materials. The Featurettes "Nim's Friends," "Abigail's Journey" and "Working on Water" will give viewers a look behind the scenes, while a Commentary Track with directors Mark Levin and Jennifer Flackett will offer additional insight into the production and the process of the making the movie. Also look for an Adventure Commentary with Jodie Foster and Abigail Breslin and a selection of Deleted Scenes.
The Blu-Ray version will come with a 1080p widescreen transfer and high definition audio, as well as the same bonus materials found on the DVD version.
"Nim's Island" is inviting you to join the adventure on August 5.