My Sassy Girl will warm your heart in August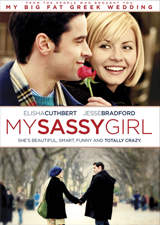 20th Century Fox Home Entertainment has added My Sassy Girl to their fall DVD line-up, bringing the romantic film to store in August.
Straight-laced Charlie Bellow (Jesse Bradford) has a perfectly predictable life. Great grades, great future, no risks. That is, until he meets Jordan Roark (Elisha Cuthbert), a compulsive girl who lives every moment on the edge. As Jordan teaches Charlie to loosen up and let go, Charlie finds himself falling helplessly in love even as his life spins out of control. But Jordan's carefree attitude masks a painful secret, and when it threatens to tear them apart, Charlie will have to show her that once destiny guides you to the one you want, it's up to you to hold on.
The DVD will feature a widescreen version of the movie with Dolby Digital 5.1 audio. No extras will be included.
"My Sassy Girl" arrives on August 19 for $26.98.