Lionsgate goes for The Bank Job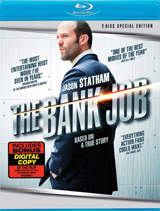 Lionsgate Home Entertainment has added the Jason Statham actioner The Bank Job to their DVD and Blu-Ray Disc release line-up with a July release date attached to it.
A car dealer with a dodgy past and new family, Terry (Jason Statham) has always avoided major-league scams. But when Martine (Saffron Burrows), a beautiful model from his old neighborhood, offers him a lead on a foolproof bank hit on London's Baker Street, Terry recognizes the opportunity of a lifetime. Martine targets a roomful of safe deposit boxes worth millions in cash and jewelry. But Terry and his crew don't realize the boxes also contain a treasure trove of dirty secrets – secrets that will thrust them into a deadly web of corruption and illicit scandal that spans London's criminal underworld, the highest echelons of the British government, and the Royal Family itself…the true story of a heist gone wrong… in all the right ways.
"The Bank Job" will arrive in two separate DVD versions. The first one is a stand-alone disc of the movie itself, while the second one is a 2-disc Special Edition release. Both will feature a 2.35:1 anamorphic widescreen transfer of the movie with Dolby Digital 5.1 audio. No bonus materials have been announced yet but it has been confirmed that all versions will include a Digital Copy version of the movie for download on portable video players.
The Blu-Ray version will also be a 2-disc Special Edition that features a 1080p high definition transfer of the movie, as well as the Digital Copy version for playback on mobile devices.
We will, of course, keep you posted as final specs and bonus materials are being announced by the studio.
The single-disc DVD version will carry a $29.99 price, while the Special Edition will cost you $34.99. The Blu-Ray version will carry a $39.99 sticker price when they all arrive in stores on July 15.