Lions Gate adds Dead And Gone to DVD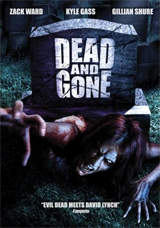 Lions Gate is preparing a DVD version of the independent horror flick Dead And Gone currently for a July release.
Jack Wade, struggling actor and trophy husband, kidnaps his comatose wife Frankie, ex-Hollywood studio exec, from the hospital and takes her to an isolated cabin in the Nevada mountains. This cabin is Jack's only asset which he won in a poker game. The same place where a man murdered his entire family decades earlier. Jack plots to kill Frankie in order to collect on her life insurance. Jack becomes delusional and has visions of the rude and crude Frankie relentlessly taunting him. As he unravels and can't decipher paranoia from derangement, he decides to smother his wife. Frankie dies, but does not disappear. Is her ghost haunting Jack, or is he insane?
The DVD will feature a widescreen transfer of the film with Dolby Digital 5.1 audio. A number of extras are also included, such as a Commentary Track by director Yossi Sasson and screenwriter Harry Shannon. A Behind-the-scenes Featurette is also included, entitled "Gone With The Dead" as well as a selection of Deleted Scenes and Outtakes.
"Dead And Gone" arrives on July 1 with a $26.98 sticker price.