Legion of Superheroes is coming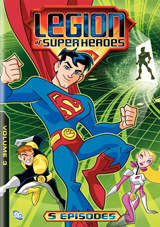 Warner Home Video continues to release super heroes in action on DVD with Legion of Superheroes – Volume 3 by adding the title to their release schedule for September.
Ever since the late-1950s, DC's Legion of Super-Heroes has always had a dedicated, almost cult-ish following, but surely a Saturday-morning animated series was more than anyone could have hoped for. Even better, the series was well-written and quite good, and a good representation of the comic book. The LSH is a group of super-powered teenagers one thousand years in the future who time-travel to the past to recruit Superman to join their team.
The new DVD comes with five episodes but no details have arrived yet on supplements.
September 9th is the release date with a suggested retail price of $14.97.