It's Always Sunny In Philadelphia, especially in September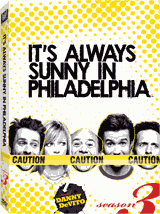 20th Century Fox Home Entertainment is bringing the Third Season of It's Always Sunny In Philadelphia to DVD in September.
The gang is back! Join Mac, Charlie, Dennis, Sweet Dee and Frank, five ne'er-do-wells who own and operate Paddy's Pub in Philadelphia, where mentally challenged rappers rub elbows with sex offenders, and where business as usual means sabotaging the bar down the street, selling coke for the mob and adopting dumpster babies for kicks. Join the wildly inappropriate gang at Paddy's as they wreak dysfunctional havoc on their customers – and each other! Sick and twisted political incorrectness has never been this laugh-out-loud hilarious!
Arriving as a 3-disc DVD set, the show will be presented in its original fullframe transfer with Dolby Surround audio. All 15 episodes of the season are included on the set, complemented by a number of extras, such as Commentaries on select episodes, the Featurettes "Sunny Side Up," "The Gang Goes On The Road," and "The Gang Dresses Up." Also included is a Gag Reel and the Season 3 FX Promo Spots.
"It's Always Sunny In Philadelphia: Season Three" can be yours on September 2 for $39.98.