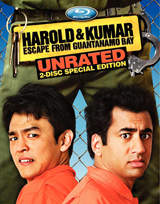 Harold & Kumar Go To White Castle and Harold & Kumar Escape from Guantanamo Bay will be making their debut in high def when New Line Home Entertainment releases both films on Blu-Ray Disc this fall.
"White Castle" will include Audio Commentaries, Interviews with John Cho and Kal Penn, Deleted Scenes a Music Video, a Sneak Peek into the second film, Trailers, Cho and Penn's induction into the White Castle Craver's Hall of Fame and the Featurettes The Art of the Fart, Drive-Thru Bites and A Trip to the Land of Burgers.
The 2-disc Blu-Ray version of "Escape From Guantanamo Bay" includes more Commentaries, the Featurette The World of Harold and Kumar, Deleted Scenes and a Bush Public Service Announcement among other extras.
Both Blu-Ray Discs will arrive on July 29th for $37.95, with a DVD release of "Escape From Guantanamo Bay" also arriving the same day for $27.95.