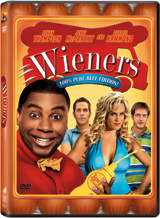 A string of "Saturday Night Live" alumnis are part of the comedy Wieners, which has just been slated for a DVD release in June.
When Joel (Fran Kranz) is publicly humiliated on national television by "Dr. Dwayne" (Darrell Hammond), he falls into a serious funk until his friends Wyatt (Kenan Thompson) and Ben (Zachary Levi) force him to join them on a cross-country road trip to smack down Dr. Dwayne. The three guys set out in Wyatt's home-made wiener-wagon, handing out free hot dogs across America and encountering an endless array of oddballs, weirdos and losers, including loogie-hocking hippies, a flipper-fingered Walrus Boy and Ms. Isaac (Jenny McCarthy), the hottest sixth grade teacher ever!
The release will feature a widescreen presentation of the movie with Dolby Digital 5.1 audio and subtitles ins vast variety of languages. No extras will be included in this release.
"Wieners" will show up all over America on June 10 for $24.94.