Genius Products lines up a Lonesome Dove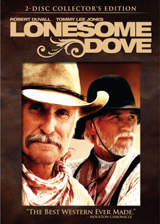 Genius Products has a DVD and Blu-Ray Collector's Edition version of the Western Lonesome Dove in the making, featuring epic performances by Robert Duvall, Tommy lee Jones, Angelica Houston, Diane Lane, Danny Glover, Robert Urich, and Chris Cooper.
Based upon the Pulitzer Prize-winning book by Larry McMurtry and set in the late nineteenth century, this sprawling epic of the Old West is the story of the last defiant frontier, a daring cattle drive, and an undying love.
On the release the film will be presented in widescreen for the first time and also offer up a Dolby Digital 5.1 audio track. The 2-disc Collector's Edition will also include a good number of bonus materials that are identical for the DVD and Blu-Ray version, such as a full 6-hour Commentary Track by director Simon Wincer, the 50-minute Documentary "The Making Of An Epic." Also included is a New Interview with director Simon Wincer, as well as a Lonesome Dove Montage set to the Original Score by Basil Poledouris.
Further you will find original On Set Interviews with Robert Duvall, Tommy Lee Jones, Chris Cooper, Diane Lane, and the rest of the cast. The release will be rounded out by a Photo Gallery of original sketches, casting notes, and more.
The release will come in a collectible packaging that also includes a Reprint of the original TV poster and a hand-written letter from director Simon Wincer.
"Lonesome Dove" can be yours for $19.95 on DVD or $39.92 on Blu-Ray when it arrives in stores on August 5.