Caroline goes to the city in August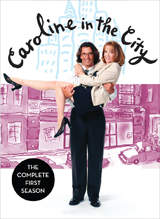 The charming and funny TV series Caroline in the City is finally making its DVD debut later this year, courtesy of Paramount Home Entertainment when the studio will release the show's Season One DVD set.
Caroline Duffy (Lea Thompson) is a successful cartoonist living in Manhattan whose comic strip "Caroline in the City" has become a huge hit. The strip is based on her own life, and the people in it – her occasional boyfriend Del, her best friend Annie, and her employee Richard who all add chaos to her life as she looks for love in the Big Apple.
The 3-disc DVD set will include all 8+ hours of the sitcom's first season fun in their original fullframe presentation, complete with Dolby Digital audio tracks. No extras will be included on the release.
"Caroline In The City" comes to stores on August 12 with a $42.99 sticker price.