And more extras on Dexter while we're at it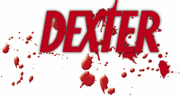 Although not as chocked full as the upcoming Spaced set, Dexter will have some features with the Season Two DVD set as well.
Dexter Morgan is a man who leads a double life as an incredibly likable forensics expert for the Miami Police Department and as an emotionless vigilante serial killer. Taught by his foster father to harness his lust for blood and killing, Dexter lives by his own strict moral code – he only kills murderers who can't otherwise be brought to justice. Dexter is a killer who grapples with fitting into society while, at the same time, he struggles with his inability to feel emotion. The irony of Dexter's life is that he works closely as a blood splatter analyst with the very people who hunt his kind – the homicide department.
The new set will include episodes from Showtime's other series Brotherhood are on the set and an interview with Michael C. Hall and podcasts from the show are available from something called E-Bridge (probably a DVD-ROM app).
The set is still arriving on August 19th on DVD only for $39.98.