Anchor Bay Entertainment is Sleepwalking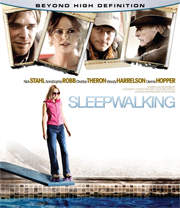 Anchor Bay Entertainment has added the drama Sleepwalking to their summer release schedule on DVD and Blu-Ray Disc, offering up a remarkably emotional story.
Jolene Reedy (Charlize Theron) is a disillusioned single mother prone to bad men and reckless behavior. Her younger brother James (Nick Stahl) is a weak-willed underachiever who can't hold a job. But when Jolene abandons her 12-year-old daughter (AnnaSophia Robb) with James, uncle and niece make a fateful decision to flee to the farm of James and Jolene's abusive father (Dennis Hopper). In a past plagued by dark secrets, can family prove to be the most desperate bond of all? Woody Harrelson co-stars in this acclaimed Sundance Festival Premiere Selection about the cycles of love, loss and waking up to the first day of the rest of your life.
The DVD version will feature a 16×9 enhanced widescreen transfer of the movie as well as a fullframe presentation, with Dolby Digital 5.1 audio. As extras the release will contain the Making-Of Featurette "A Mother's Shame, A Family's Pain" and the movie's Trailer.
The Blu-Ray version will offer a 1080p high definition transfer complemented by a Dolby Digital audio track, as well as an uncompressed PCM 5.1 track. The extras on the Blu-Ray version are identical to the DVD version, namely the Making-Of Featurette and Trailer.
"Sleepwalking" arrives on July 8 and can be yours for $29.98 on DVD and $39.98 in high definition.