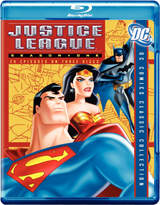 Extras have been announced for the upcoming Season One box set of Justice League Of America on Blu-ray from Warner Home Video.
Superman, Batman, Wonder Woman, The Flash, Green Lantern, Martian Manhunter and Hawkgirl they have all used their unique powers to fight evil across the galaxy. These 7 super heroes unite to become the Justice League. These 26 adventures feature battles with favorite villains like Lex Luthor, Vandal Savage and sorceress Morgan Le Fey. Acts of justice include saving Aquaman from a coup and clearing Green Lantern's name in a charge of genocide. From the smash hit TV series, these triumphant tales of teamwork will enthrall and inspire!
The 3-disc set will be essentially identical to the DVD set including Commentary Tracks on select episodes, Interviews with show creators, Character Designs, Storyboards, an early Justice League Promo and a Music Video.
The set is still scheduled for an August 19th release date with a $59.96 sticker price.