21 arrives in July to beat the house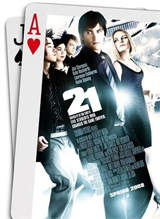 Sony Pictures Home Entertainment has added 21 to their July title line-up, bringing the film to DVD and Blu-Ray Disc.
Based on a true story, Ben Campbell (Jim Sturgess) is a shy, brilliant MIT student who finds a way to pay for medical school through his skill at playing cards. He is recruited to join a group of the school's most gifted students who head to Vegas every weekend armed with fake identities and the know-how to turn the blackjack odds in their favor. With unorthodox math professor Micky Rosa (Kevin Spacey) leading the way, they've figured out a way to crack the code by counting cards and employing an intricate system of signals. Seduced by the money, the Vegas lifestyle, and his smart and sexy teammate, Jill Taylor (Kate Bosworth), Ben begins to push the limits. Though counting cards isn't illegal, the stakes are high, and the challenge becomes not only to keep the numbers straight, but to stay one step ahead of the casino's menacing enforcer, Cole Williams (Laurence Fishburne).
The DVD version includes a number of cool bonus features such as an Audio Commentary by director Robert Luketic and producers Dana Brunetti and Michael De Luca. Also included is the Featurette "The Advantage Player" explaining the strategy behind blackjack and the basics of card counting and the Featurette "Basic Strategy: A Complete Film Journal" in which director Robert Luketic and other crew members discuss the visual process of creating the film and what it takes to make an ensemble cast come together.
Further you will find the Featurette "Money Plays: A Tour of the Good Life" on the release, with production designer Missy Stewart and costume designer Luca Mosca take a close look at the clothes, luxuries and locations for a Vegas fantasy. The 2-disc DVD also includes a bonus Digital Copy of the film which can be unlocked in just minutes and played on a PC or PSP system.
The Blu-Ray version will offer all the same bonus materials that are found on the DVD version but in addition to those there is also a Virtual Blackjack Game included which helps players to master their skills at blackjack and pick up valuable tips on how to count cards by practicing in the "classroom" or by going directly to the casino floor to place bets. The interactive game also allows for players earning a high score to post their results to the BD-Live Leaderboard and see how they stack up with the rest of the world.
"21" arrives on July 22 with a $26.98 price tag for the single-disc DVD, $34.95 for the 2-disc DVD, and $38.96 for the Blu-Ray Disc version.