You can enter The Dead Zone in June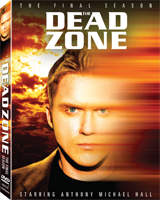 Lionsgate Home Entertainment has announced the sixth and final season of The Dead Zone for release on DVD in June.
"The Dead Zone" is a unique psychological thriller that combines a rich mix of action, the paranormal and a continuing quest for justice. Based on characters from the best-selling Stephen King novel, Anthony Michael Hall stars as Johnny Smith, a man injured in a near-fatal car crash, which leaves him in a six-year coma. When he awakens, he realizes he has startling psychic abilities that enable him to see into the past and future through visions triggered by touch.
Apart from all 13 episodes of the show's final season in a widescreen presentation with Dolby Digital 5.1 audio, the DVD set will also include Commentary Tracks by the cast and crew, as well as the Featurette "A New Home for The Dead Zone" and the Featurette "All Aboard: Filming The Dead Zone on a Train".
"The Dead Zone" arrives for its final showing as a 3-disc DVD set on June 3 for $34.98.