Witchblade arrives in July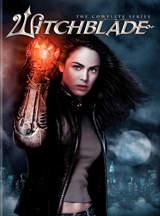 Warner Home Video has unveiled details about the upcoming release of Witchblade on DVD, scheduled for July. Based on a popular comic book series, this DVD set will surely please fans.
In this adaptation of the Top Cow comic book, "Witchblade" is the story of a New York detective, Sara "Pez" Pezzini, whose search for justice brings her into contact with the Witchblade, an ancient, intelligent, living weapon so powerful it can battle Earth's darkest evil forces. Week in and week out, "Pez" employs her skills as a police detective to fight crime. She finds she must employ the Witchblade to combat a much greater and frighteningly organized conspiracy of evil that threatens the very soul of humanity. As Sara tries to keep the secret of the Witchblade, do her job and have a personal life, she finds that her most formidable adversary may be the Witchblade itself.
All 23 episodes of the show will be included on this 7-disc DVD set, making up the entire series, as well as the original made-for-TV movie. A number of bonus features are also included, such as the " Bringing the Blade to Life" Featurette, the Featurette "Welding The Blade" and the Original Casting Sessions for Yancy Butler, Anthony Cistaro, David Chokachi, Eric Estebari, and Will Yun Lee.
"Witchblade: The Complete Series" will be in stores on July 29 for $69.98.