Warner plots some unserious revenge with Mama's Boy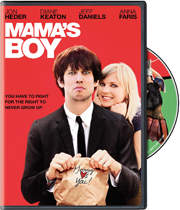 Warner Home Video is readying the latest Jon Heder comedy Mama's Boy for release in June, also.
Twenty-nine year old Jeffrey Manus is a stay-at-home guy. Not his home. His mom's. But that doesn't mean he's living la vida cushy. What about the time his ant farm broke? Or the day he lost his hat? And now his biggest challenge just walked in the door: Mert Rosenbloom, mom's new beau and Jeffrey's new rival for 24/7 attention. Mert's gotta go. And no plot is too devious or immature to make Mert history.
Also starring Diane Keaton, Jeff Daniels, Anna Faris and Eli Wallach, this comedy arrives with the widescreen and fullframe version on one disc, supplemented by a Dolby Digital audio track. As extras you will find Additional Scenes on the disc, as well as a Commentary Track by director Tim Hamilton.
For $19.95 the DVD can be yours on June 3.