Warner invites you to see Earth: The Biography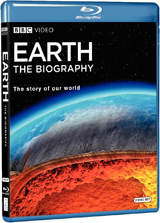 Warner Home Video is taking a look at Earth: The Biography with a DVD and a Blu-Ray release of the BBC Documentary in July.
This landmark series uses specialist imaging and compelling narrative to tell the life story of our planet, how it works, and what makes it so special. Examining the great forces that shape the Earth – volcanoes, the ocean, the atmosphere and ice – the program explores their central roles in our planet's story. How do these forces affect the Earth's landscape, its climate, and its history? CGI gives the audience a ringside seat at these great events, while the final episode brings together all the themes of the series and argues that Earth is an exceptionally rare kind of planet – giving us a special responsibility to look after our unique world. This is a series that shows the Earth in new and surprising ways. Extensive use of satellite imagery reveals new views of our planet, while timelapse filmed over many months brings the planet to life. Offering a balance between dramatic visuals and illuminating facts, this ground-breaking series makes global science truly compelling.
The release includes the following episodes, Volcano – Volcanoes have a fearsome reputation. In reality, they are the most important force in the creation of the planet as we know it today. Abseiling into a lava lake and cave-diving in a cenote, this episode shows how the heat that fuels volcanoes also drives some
of the most fundamental processes on the planet.
Atmosphere – This episode ventures into the stratosphere in a Cold War fighter, travels to Siberia and discovers why Argentina is one of the stormiest places on Earth. All to show why our atmosphere is unique and utterly crucial for life.
Ice – Ice may be nothing more than frozen water but it holds extraordinary power. Descending 150m down a frozen waterfall, this episode looks at a glacier in action from below and discovers why the huge Jacobshaven glacier is retreating, how it shaped our past and why it may now threaten our future.
Oceans – Travelling from Hawaii to the Amazon and Ethiopia and then on to the Mediterranean, this episode tells the story of the oceans fierce waves, huge tidal bores, global currents and the future dangers of global warming.
Rare Earth – This episode looks at the big picture of Earth's place in Space. It has taken four-and-a-half billion years and several great catastrophes to turn it from a barren rock to the unique planet we know today.
The 2-disc DVD Set will contain a widescreen presentation of the documentary with English Dolby Stereo audio. The DVD and Blu-Ray version will be identical in terms of their content.
"Earth: The Biography" will arrive on July 22 and can be yours for $29.98 on DVD or $39.98 on Blu-Ray.