The Spiderwick Chronicles arrive in June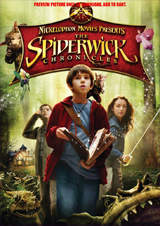 Paramount Home Entertainment has just unveiled plans to release The Spiderwick Chronicles on DVD this summer.
From the beloved, best-selling series of books comes an extraordinary fantasy adventure, revealing the unseen world that exists all around us. From the moment the Grace family moves into a secluded old house peculiar things start to happen. Unable to explain the accidents and strange disappearances, the Grace children, Jared, Simon and Mallory start to investigate and find the unbelievable truth of the Spiderwick Estate and the amazing creatures that inhabit it.
The film will appear in separate widescreen and fullframe versions as well as a 2-disc Special Edition but no exact details have been announced yet. We will, of course, keep you posted as new information comes in. For the time begin mark June 24 in your calendars for this exciting release.