The Other Boleyn Girl, The Other Format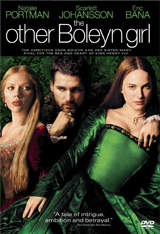 Sony Pictures Home Entertainment will be bringing both of the scheming Boleyn girls to home video with the release of The Other Boleyn Girl arriving on DVD and Blu-Ray Discon the same day.
Based on the best-selling novel, "The Other Boleyn Girl" is a captivating take of intrigue, romance and betrayal starring Natalie Portman, Scarlett Johansson and Eric Bana. Two sisters, Anne (Portman) and Mary (Johansson), are driven by their ambitious family to seduce the King of England (Bana) in order to advance their position in court. What starsas an opportunity for the girs to increase the family fortune becomes a deadly rivalry to capture the heart of a king and stay alive.
Special features include Camera Tests with narration by director Justin Chadwick, commentary, Deleted and Extra Scenes, Bios and the Featurettes "To Be a Lady – Court Etiquette" and "Translating History to the Screen".
In addition, the Blu-Ray version will also contain a Picture-in-picture Trivia Track called "Inside the Court".
Both the DVD and Blu-ray will arrive on June 10th for $28.96 and $38.96, respectively.