Prepare for 10,000 BC on home video in June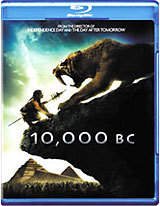 Roland Emmerich's prehistoric epic has not yet fully disappeared form movie theaters and already do we have a home video announcement of 10, 000 BC to arrive on DVD and Blu-Ray Disc in June.
The film that raked in over $250 million so far follows a young mammoth hunter's journey through uncharted territory to secure the future of his tribe.
The DVD version will feature both an anamorphic widescreen transfer of the movie, as well as a pan&scan version on the same disc. As extras you will find Deleted Scenes as well as an Alternate Ending on the release, as well as the movie's Theatrical Trailer.
The Blu-Ray version of the movie will come with a 1080p transfer and a full-blown Dolby Digital 5.1 TrueHD audio track. The disc will also include all the extras found on the DVD version but also add the Featurettes "A Wild And Wooly Ride," and "Inspiring An Epic" to the mix.
"10,000 BC" comes to home video on June 24 and will carry a $28.98 price tag for the DVD version and $35.99 for the Blu-Ray version.