New Line invites viewers to Be Kind Rewind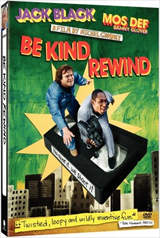 It seems horribly antiquated these days but there were times when video stores displayed signs that said Be Kind Rewind to remind customers that video tapes needed rewinding. Times have certainly changed…
New Line Home Entertainment is now preparing Michel Gondry's comedy with the same title for release in June.
Experience the antics of two outcasts, Jack Black and Mos Def, as they attempt to save a local video store from extinction. The release will contain the widescreen version of the film as well as a fullframe transfer on the same disc, together with a Behind-the-scene Featurette.
"Be Kind Rewind" will be available on June 10 and can be yours for $27.95.