MGM and Fox spool off the war classics in high def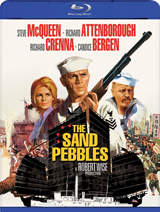 With Father's Day just around the corner, 20th Century Fox Home Entertainment and MGM Home Entertainment have added a good number of war-themed movies to their high def release line-up.
Battle Of Britain arrives in 1080p with a DTS HD Master Audio track, but offers only a trailer as extra. A Bridge Too Far also comes in 1080p with a DTS HD Master Audio track and only a trailer as a supplement.
Things get a little more exciting with the Fox-produced titles, such as The Longest Day, which comes with a DTS HD Master Audio track also. A Commentary Track with history Expert Mary Corey, and another one with director Ken Annakin will be included on the disc, as well as 4 standard-def Featurettes. A Still Gallery and the film's Trailer round out the disc.
Patton also arrives with a 1080p transfer and DTS HD Master Audio track, an Introduction by Francis Ford Coppola as well as a Commentary Track by Francis Ford Coppola. Two standard–def Documentaries will be included together with a Production Still Gallery and Jerry Goldsmith's Complete Musical Score. The movie's Trailer and a Behind-the-Scenes Gallery will make up the remaining bonus materials for this release.
Then there is the Steve McQueen film The Sand Pebbles, as announced previously. The release will also feature a good number of extras, such as a
Commentary Track by Robert Wise, Candice Bergen, Mako and Richard Crenna and an Isolated Score with commentary by music producer Nick Redman, film music historian Jon Burnlingame and screen writer & film historian Lem Dobbs. Further look for 13 Deleted Scenes and 6 Featurettes covering a wide variety of aspects of the film. A Trivia Track is also included, as well as 2 Radio Documentaries, narrated by Richard Attenborough. The film's Trailer rounds out this great release.
Each of the films will be available on June 3 for $39.98.