Meet The Spartans in June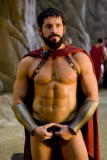 20th Century Fox Home Entertainment has just announced plans to release the spoof Meet The Spartans on DVD and Blu-Ray disc this summer.
In Meet the Spartans, the heroic Leonidas, armed with nothing but leather underwear and a cape, leads a ragtag group of 13—count 'em, 13!—warriors to defend their homeland against the invading Persians, whose ranks include Ghost Rider, Rocky Balboa, the Transformers, and a hunchbacked Paris Hilton. You won't find a funnier Greek war film even if you live to see 300!
Making fun of many recent blockbusters and blockbuster-attempts as well as the stars and celebrities associated with these films, the film also tackles pop culture television staples as "American Idol," "Dancing with the Stars," "Ugly Betty" and "Deal or No Deal." The dumber, the better, is the formula of the film and it could make for some good laughs.
DVD in its widescreen aspect ratio with Dolby Digital audio, the disc will arrive as an Unrated "Pit Of Death" Edition with additional footage. As extras you will also find a Gag Reel on the release as well as a few Behind-the-scenes Featurettes, entitled "Meet the Spartans," "Prepare For Thrusting" and "Tour The Set." Lastly a Trivia Game with the name "Know Your Spartans" will also be found on the disc.
A Commentary Track by the cast and crew is also included as well as the movie's Theatrical Trailer.
The Blu-Ray version will offer up a 1080p AVC widescreen transfer of the film on a single-layer BD-25 disc with a 5.1 channel DTS HD Lossless Master audio track. It will include all the extras form the DVD also, as well as an additional on-screen Trivia Track and two Interactive Games.
"Meet The Spartans" arrives on June 3 and will set you back $29.98 on DVD or $39.98 on Blu-Ray.