Lionsgate opens The Eye in June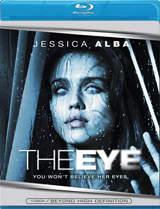 Lionsgate Home Entertainment has announced the DVD and Blu-Ray Disc release of the horror thriller The Eye, starring Jessica Alba, for June.
Sydney Wells is blind and has been so since a childhood tragedy. After undergoing surgery to restore her sight she learns to see again. But soon after, unexplainable shadowy and frightening images start to haunt her. Not knowing if they are an aftermath of surgery, her mind adjusting to sight, her imagination, or something horrifyingly real, Sydney is soon convinced that her anonymous eye donor has somehow opened the door to a terrifying world only she can now see.
The DVD version will offer an anamorphic widescreen transfer of the movie in its original 2.35:1 aspect ratio, complete with a Dolby Digital 5.1 audio track. A cropped pan & scan transfer of the movie will also be included on the disc. No extras have been announced.
The Blu-Ray version will feature a 1080p high definition transfer of the film to ensure every detail remains intact. Expect full 7.1 channel lossless audio on the release as well as Dolby Digital 5.1 tracks, but like for the DVD version, no extras have been announced.
"The Eye" will make its appearance on June 3 and can be yours to own for $29.98 on DVD and $39.99 on Blu-Ray.