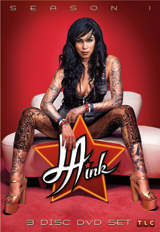 Genius Products has announced a DVD version of LA Ink: Season 1, scheduled for release in July.
Playing by her own rules, Kat lives a fast-paced, rebel lifestyle. Hers is a life of freedom: she sets her own schedule, picks her clients, sleeps late and parties all night. For her shop to be a success, Kat will need to learn how to balance her lifestyle and her business while managing a colorful staff of renowned artists. LA Ink will offer a rare glimpse into an LA that is seldom seen, through the eyes of a true insider.
Coming in its original fullframe aspect ratio in a 3-disc DVD set, the show will feature a Dolby Digital audio track but no extras.
"LA Ink: Season 1" will open shop on July 22 for $24.95.