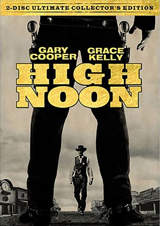 High Noon is getting a new release through Lionsgate Home Entertainment that will be quite an upgrade from the previous release.
In the greatest showdown in the history of cinema, lawman Will Kane (Gary Cooper) stands to lose not only the town but his new wife (Grace Kelly). On the day he gets married and hangs up his badge, Kane is told that a man he sent to prison years before, Frank Miller, is returning on the noon train to exact his revenge. Having initially decided to leave with his new spouse, Kane realizes he must go back and face Miller. However, when he seeks the help of the townspeople he has protected for so long, they turn their backs on him. Now, Kane must stand alone in his fight for justice.
The new two disc set will contain the full restoration of the film for the first time on DVD and will include an Audio Commentary with Maria Cooper-Janis, Jonathan Foreman, Tim Zinnemann and John Ritter, the Documentaries Inside High Noon and The Making of High Noon, the Featurettes Behind High Noon and Tex Ritter Museum plus the Full-Length Tex Ritter Performance of Oscar-Winning Original Song "Do Not Forsake Me, Oh My Darlin" on the Jimmy Dean TV Show, as well as a Radio Broadcast with Tex Ritter.
The set arrives for $19.98 on June 10th.