Here's additional information about Dante's Cove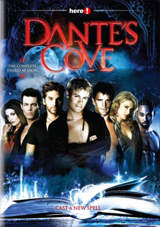 As announced yesterday, Genius Products has added a DVD set for Dante's Cove: Season 3 to their release line-up, scheduled for June.
Just when you thought the "Cove" couldn't get any more shocking..it does! The sexy and supernatural residents are back with even more seductive neighbors, more black magic and more juicy plot twists than ever before! New cast members include "Amazing Race" winner Reichen Lehmkuhl and "Noah's Arc" star Jensen Atwood.
We have now received additional information about the DVD set, including the bonus features that will be part of the 2-disc DVD set. Apart from a widescreen presentation with Dolby Digital 5.1 audio you will find Production Commentaries on the release, as wel as a Backlot Featurette and a selection of Bloopers.. Also included are Deleted & Extended Scenes as well a Photo Gallery and the show's Trailer.
Look for "Dante's Cove" to weave a spell on June 3 for $29.95.