Genius Products opens the pages on Diary Of The Dead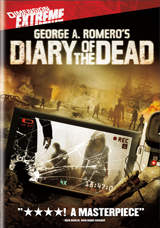 Legendary frightmaster George A. Romero revisited the zombie-genre once again last year with Diary Of The Dead, and Genius Products will be releasing the film on DVD in May.
The film, continuing Romero's zombie-saga, focuses on a terrified group of college film students who record the pandemic rise of flesh-eating zombies while struggling for their own survival. Intensely gruesome and relentlessly grisly – fueled by the director's signature realistic special effects – "Diary of the Dead" is must-see horror that will chill you to the bone.
Sporting an anamorphic widescreen transfer with Dolby Digital 5.1 audio, the disc can be yours for $24.95 when it arrives in stores on May 20.