Genius Products arrives at the Center Of The Earth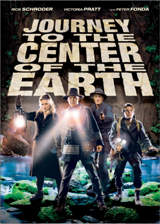 We just got information that Genius Products will be releasing a DVD version of the latest incarnation of Jules Verne's classic story Journey To The Center Of The Earth
After noted explorer Edward Dennison vanishes, a search party, headed by anthropologist Jonathan Brock, embarks on a mission to trace Dennison's last known tracks through a secret passage in Alaska—a gateway to the very center of the Earth. What the team discovers is an underworld tribe of primitive warriors and prehistoric dangers unknown to civilization.
Starring Peter Fonda, Rick Schroder and Victoria Pratt, the DVD will feature a widescreen transfer of the movie with Dolby Digital 5.1 audio. The studio has also indicated that some bonus materials will be part of the release but no exact details have been announced.
You can be part of the "Journey To The Center Of The Earth" on July 7. Tickets to the adventure are only $19.98.