Fool's Gold awaits you in June from Warner Home Video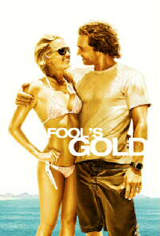 Warner Home Video has just added Fool's Gold to their release line-up, coming to DVD and Blu-Ray Disc in June, also.
Matthew McConaughey and Kate Hudson go for the gold (and the diamonds, emeralds and rubies) as a just-divorced couple who bicker and banter their way through an adventure- and laugh-packed undersea treasure hunt. McConaughey is Finn, in love with his ex (Hudson) and in deep with gangster Bigg Bunny. After eight years of searching, Finn gets a clue to the whereabouts of the Queen's Dowry, a fabulous fortune that mysteriously disappeared in the Caribbean in 1715. Now all he has to do is get the gold, get the girl and get going before Bigg Bunny gets him. Directed by Andy Tennant (Hitch), Fool's Gold glitters with danger, action, romance, comedy, great one-liners – and a great time to be had by all!
Warner will release separate DVD versions for the widescreen and fullframe presentation of the movie, both with Dolby Digital 5.1 audio tracks in English, Spanish and French.
The Blu-Ray version will contain a 1080p widescreen transfer but no other details or extras have been announced.
"Fool's Gold" will make it to stores on June 17 for $28.98 on DVD and $35.99 on Blu-Ray.