Wrestlemania comes to Blu-Ray, too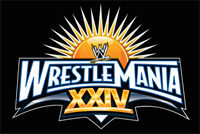 Fans of World Wrestling Entertainment's muscle-packed athletics will be pleased to hear that the company has announced a Blu-Ray version of Wrestlemania XXIV for release in May along with a DVD version.
Taking place on March 30, the heavyweight wrestling superstars will once again converge to hold one of their biggest annual events, "Wrestlemania," this time in Orlando, Florida. Filled with matches that were prepared with dramatic setups, the event will feature three title matches featuring superstars such as the undertaker, Shawn Michaels, Ric Flair, Triple H and others.
No details have been unveiled about the DVD and Blu-Ray release of the event other than that it is going to be a 2-disc affair. Continually providing solid releases with great bonus materials, it is easy to see how this will be a jam-packed release however that will land in stores on May 20 for $49.95 on Blu-Ray and $39.95 on DVD.