V for Vendetta, B for Blue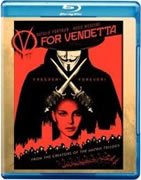 V for Vendetta was one of the Warner films that initially came out exclusively for HD-DVD (due to PIP support on HD-DVD), but will finally make the jump to Blu-ray in May.
The video will be presented in 1080p VC-1 with a Dolby Digital 5.1 track. Special features haven't been announced yet, but will likely mirror the HD-DVD extras from last year.
The disc arrives May 20th with a suggested retail price of $28.99. Now how about the Matrix Warner?