The Sand Pebbles arrives in June in high definition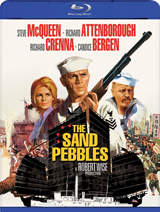 20th Century Fox Home Entertainment has a number of war-themed titles lined up for release on Blu-Ray Disc, including the 1966 Steve McQueen movie The Sand Pebbles.
Engineer Jake Holman (Steve McQueen) arrives aboard the gunboat U.S.S. San Pablo, assigned to patrol a tributary of the Yangtze in the middle of exploited and revolution-torn 1926 China. His iconoclasm and cynical nature soon clash with the "rice-bowl" system which runs the ship and the uneasy symbiosis between Chinese and foreigner on the river. Hostility towards the gunboat's presence reaches a climax when the boat must crash through a river-boom and rescue missionaries upriver at China Light Mission.
Also starring Richard Attenborough, Richard Crenna, Candice Bergen and Mako, and directed by Robert Wise, the film will come in its original 2.35:1 widescreen aspect ratio, complete with DTS HD 5.1 and Dolby Digital audio tracks. No extras have been announced for this disc but given its considerable length of 179 minutes I would not expect any.
"The Sand Pebbles" will be in stores on June 3 and can be yours to own for $39.99.