The race is on with Oban: Star-Racers in April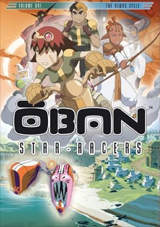 Shout! Factory is bringing the 3D animation series Oban Star-Racers to DVD in a DVD set this April.
It's 2082. Ten thousand years have passed since the last great race on the remote planet of Oban. Now the time has come for the pilots of the galaxy to compete in a new race, and Earth is more than ready with its spectacular Whizzing Arrow star-racer. Built and maintained by racing legend Don Wei's team of engineers and mechanics, the Whizzing Arrow has become the Earth's only hope against annihilation by the greatest foe the world has ever seen—the menacing Crog Imperium.
There's just one problem: Once he arrives on the distant planet of Alwas for the competition, Wei's top pilot is forced into early retirement, and the controls of the Whizzing Arrow are placed into the inexperienced hands of "Molly," a 15-year-old racing prodigy!
Featuring 13 uncut episodes form the show, this 2-disc DVD set will also include a 30-minute Behind-The-Scenes Featurette and an Interview with the show's creator Savin Yeatman-Eiffel. In addition you will find Star-Racer Profiles on the release, as well as Rare, Original Concept Art. The series' Trailers and a Sneak Peek at Oban Star-Racers Volume 2 will also be included.
"Oban Star-Racers: Volume 1" will be in stores on April 22 and can be yours for $19.99.