The lowest possible TV denominator arrives with Rock Of Love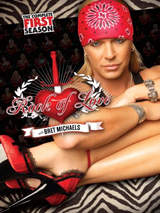 The question when a celebrity is a celebrity and when a reality show is a reality show becomes imminent when you hear that Rock Of Love has just been announced for release on DVD in April. Not a whole lot more than a sleazy get-laid quick scheme by has-been "Poison" front man Bret Michaels, it amazes me that shows like these really do have an audience. I guess we simply do not have enough street hookers around this country so that people have to turn to a TV show to see some.
"Rock of Love: The Complete First Season" shows what happens when 25 butt-ugly and plain-dumb bimbos battle each other for an all-access pass into the heart of a former rock 'n' roll star. Every out-of-control episode is here and full of name calling, dirty talking, face sucking, backstabbing, partying, puking, tattooing and many other acts of rude, crude and lude behavior! Sounds like fun? Not to me, it doesn't. To me this sounds more like a "lock them up and throw away the key" kind of thing.
Anchor Bay Entertainment is releasing the Complete First Season of the retard TV show on DVD featuring all 13 dim-witted episodes plus bonus footage too hot for TV, which is utterly pointless because trash remains trash whether it's too hot for TV or not. The release will come as a 3-disc DVD set and will be in stores on April 8 for $34.97.