The Internet-thriller Untraceable arrives in May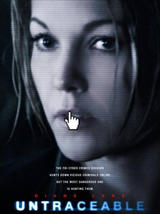 Sony Pictures Home Entertainment is putting the final touches to a DVD and Blu-Ray Disc version of Untraceable, a cool thriller with some wicked twists.
Within the FBI there exists a division dedicated to investigating and prosecuting criminals on the internet. Welcome to the front lines of the war on cybercrime, where special Agent Jennifer Marsh (Diane Lane) and Griffin Dowd (Colin Hanks) have seen it all?until now. A tech-savvy internet predator is displaying his graphic murders on his own website and the fate of each of his tormented captives is left in the hands of the public: the more hits his site gets, the faster his victims die. When this game of cat and mouse becomes personal, Marsh and her team must race against the clock to track down this technical mastermind who is virtually untraceable.
The DVD Version will feature an anamorphic widescreen version of the movie with Dolby Digital 5.1 audio in English, French, Spanish and Portuguese.
As extras you will find a Commentary Track with director Gregory Hoblit, producer Hawk Koch, and production designer Paul Eads on the disc, as well as a number of Featurettes, such as "Tracking Untraceable," "Untraceable: The Personnel Files," "The Blueprint of Murder" and "The Anatomy of Murder".
The Blu-Ray version will contain a 1080p high definition transfer with high definition audio, of course and will also include all the features found on the DVD version. As a high def exclusive, the release will also contain a Picture-in-Picture Video Commentary taking you even further behind the scenes of the movie's production.
"Untraceable" arrives on May 13 and can be yours for $28.95 on DVD, or $38.96 on Blu-Ray. A UMD version of the Playstation Portable has also been scheduled, available for $24.94.