Tai Seng deals out punches with Dragon Tiger Gate on Blu-Ray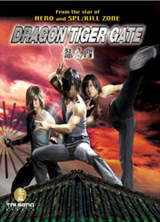 Tai Seng has also entered the high definition arena a few weeks ago with the release id "Initial D" and continues to provide high def content with Dragon Tiger Gate on Blu-Ray on May 27.
Super action star Donnie Yen teams up with his "Kill Zone" director Wilson Yip again for this live action adaptation of Tony Wong's long-running and staggeringly popular comic book series!
Dragon (Donnie Yen) used to belong to the righteous martial arts school Dragon Tiger Gate. A fallout with his master (Yuen Wah from "Kung Fu Hustle") led to Dragon being kicked out of the school and leaving his younger brother Tiger (Nicholas Tse) behind. Now the two brothers must unite and together with nunchaku expert Turbo Shek (Shawn Yu), fight the savage and mysterious villain Shibumi, evil leader of the Lousha Gate.
The release will offer a 1080p high definition transfer of the film in its original widescreen aspect ratio, complete with a 5.1 channel uncompressed PCM track, as well as a DTS TrueHD and Dolby Digital track. No extras have been announced for the release however.
"Dragon Tiger Gate" will kick the competition to the curb on May 27 and can be yours for $29.98.