Synapse Films prepares Lucker The Necrophagus for you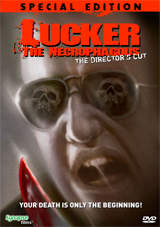 Synapse Films has just announced plans to release one of the most notorious grey market horror films, the Belgian gorefest Lucker The Necrophagus on DVD this May.
John Lucker is a deeply disturbed serial rapist and killer. Locked up in a clinic after committing eight murders (and keeping the bodies around for his own sexual pleasure after the people died!!!), Lucker manages to escape and flees to the city… searching for the one lone survivor of his previous killing spree. His disgusting rampage continues and more people die one by one. Lucker must find and kill the woman who escaped him the first time and no one will get in his way!
This deeply disturbing – or should that be disturbed? – movie will make its DVD debut in a restored version that includes the Original Uncut VHS Version of the movie along with a Making-Of Documentary.
"Lucker The Necrophagus" will be in stores on May 20 and can be yours for $19.98.