Season six of Bewitched is on the way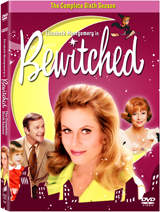 Sony Pictures Home Entertainment has scheduled a 4-disc DVD set featuring Bewitched: Season Six for release in May.
"Bewitched" chronicles the nose-twitching marriage of Samantha and Darrin Stephens. They seem like an ordinary suburban family – she's a charming housewife, he's a Madison Avenue advertising exec – but there's one slight difference: Samantha's a witch. Samantha promises not to use her witchcraft, yet despite her best intentions, magic permeates the Stephenses' household.
The sixth season's classic episodes include: Tabitha (Erin Murphy) running away to be in "Jack and the Beanstalk" because she is jealous of her baby brother; Darrin (Sargent) being frozen into a mirror when Maurice finds out the baby isn't named after him; Endora (Moorehead), upset at Samantha (Montgomery) for celebrating Halloween, turning Darrin into a warlock; Uncle Arthur (Paul Lynde) botching his magic hat trick at Tabitha's (Erin Murphy) birthday party and pulling a Playboy bunny out of his hat instead; Serena, Samantha's wacky cousin, returning to complicate things; and Samantha trying to find a way to get rid of Santa when he overstays his welcome. Guest stars include Emmy® nominee Jack Cassidy, Johnny Whitaker, Danny Bonaduce, and Lloyd Bochner.
The DVD set contains all 30 episodes from the show's sixth season completely remastered for this release in their original fullframe presentation. As extras you will also find the Bonus Minisode: The Partridge Family "The Eleven Year Itch" and the Bonus Minisode: I Dream of Jeannie "Where'd You Go-Go?" on the release.
"Bewitched: Season Six" is scheduled for release on May 6 for $39.95.