Rambo is coming to get you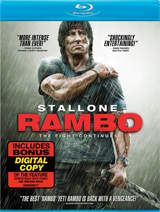 Sylvester Stallone's latest film, Rambo will be arriving on DVD and Blu-ray Disc soon and he will bring along his old movies thanks to Lionsgate.
Several releases are in store for the freedom fighter. The new "Rambo" will appear on a single and double disc DVD packed with bonus materials, as well as a Blu-ray disc featuring the same extras, plus a full-blown DTS HD 7.1 audio track, alongside a Dolby Digital 5.1 EX track.
Lionsgate is also revisiting the original Rambo movies and a six disc box set will be available containing all four Rambo films as well although no Blu-ray set is planned as of right now.
More word will likely start popping up on features, but all versions will arrive on May 27th for $39.99 on Blu-Ray and $34.98 on DVD.